Dear practitioner!
There is a constantly increasing rise in litigation in modern medical practice. A strong emphasis is placed on good record keeping as an integral part of patient care and a clinician's legal defense.
To improve your record keeping, you are welcome to use EMSOW's Patients module that now features a quick tool to check patient's procedures summary.
If you are not with EMSOW yet, you are welcome to book a FREE online demo here!
[#22741] Study groups filter in "Submit statements" window
With this update, we have added the Study groups search option to the Submit statements window in Billing: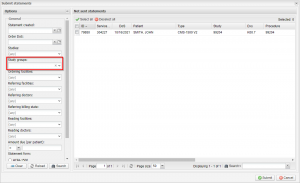 This option will help you find statements by study group (e.g., ultrasound, X-ray, visits, surgical).
[#22735] Sort patient statements within a batch by number of pages
From now on, it is possible to sort patient statements within a batch by number of statement pages in ascending order. If you would like to enable the sorting, please contact our support team. This is a really helpful feature if you have a folding machine that you use to put patient bills to envelopes.
[#22689] Studies summary tooltip in Patients
The Patients module now features a tooltip that shows studies summary for a patient so you don't have to double-click into the patient record to see the patient's studies. Just hover your mouse over the patient's name:

[#21134] Referring facilities filter in "Submit electronic claims" window
The new Referring facilities search option has been added to the Submit electronic claims window in Clearing: