Dear practitioner!
As the population grows, the importance of the healthcare system intensifies particularly in times of any global pandemic like one caused by Coronavirus, which has put tremendous pressure on the capacity and capability of health institutions and healthcare providers.
We realize how difficult it is to manage business these times, that's why EMSOW enhances the platform every week to make it easier for you to use and for your business to prosper.
This week we slightly changed our user permissions system to give you more flexibility in allowing users to remove billing transactions. You can also check out a new viewing mode in the DICOM Viewer.
If you are not with EMSOW yet, you are welcome to book a FREE online demo here!
[#23126] Permissions for users to remove specific billing transactions
From now on, instead of a single permission to remove a billing transaction of any kind, EMSOW offers a full range of specific permissions to remove a transaction of a particular type such as "rebill", "charge", "claim", "statement", "payment", "write-off", "open", "close", "invoice", "superbill", "adjustment", and "purchased charge".
To configure permissions, follow Admin → Groups in the main EMSOW menu and double-click into the necessary group: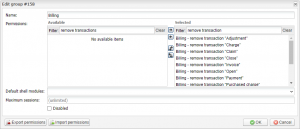 [#22988] See all DICOM images on one page in DICOM Viewer
The latest update introduces a new viewing mode in the DICOM Viewer. It shows all images on one page. To activate the new mode, click the Show image space button on the toolbar:
Then the viewport will show all images on one page:
You can scroll through the images and double-click each image to see it full-size in the regular viewing mode. It is also possible to play cineloops by hovering your mouse cursor over them.