Greetings to all!
The medical billing department is the key to the continued profitability of any medical practice. Bills must be created on a timely basis, submitted properly to various insurance companies and government entities, and followed-up regularly to ensure prompt payment is received. Solid billing practices lead to a better cash flow and improved Revenue Cycle Management, which, in turn, ensures financial stability of your company and allows you to keep the practice running without worrying about money.
EMSOW strives to make it easier for your billing department to work. In the latest release, we enhanced our financial analysis feature and added an advanced option to override referring facility information in insurance claims.
If you are not with EMSOW yet, you are welcome to book a FREE online demo here!
[#23433] "Charged" column in Financial Analysis
From now on, the Financial Analysis module shows the charged amount:

[#23412] Overriding referring facility information with a billing rule
This can be done by configuring a billing rule where we have added the Override column with a clickable link: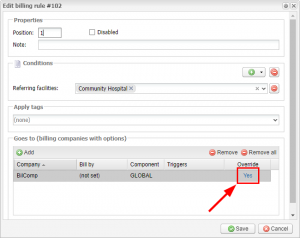 With this link, you can open a window with the overriding settings:
Now, all studies affected by this billing rule will have this data in their billing information.
You can also override referring facility information for any study individually. In order to do that, open the study billing information window and click the link under Override: