This time we have put out eight features – some tools and settings to improve your workflow and Revenue Cycle Management, as well as a small update to our new mobile-friendly experience. If you are a portable imaging provider and have not seen EMSOW, you've got to check it out!
Now, without further ado, let's get into the latest version of the platform:
[#21687] Referring doctor as ordering provider in electronic claims (5010 837P Loop 2420E)
With this update, you can transmit referring doctor information (name and NPI) as the ordering provider field of your X12 electronic claims. To enable this option, go to Setup → Insurances → Insurances, double-click into the necessary insurance, open the Billing tab, and select the Include referring doctor as ordering provider (loop 2420E) checkbox: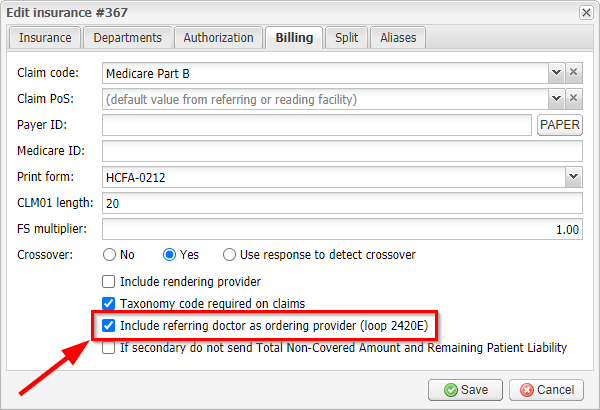 This should help you meet the requirements of certain payers.
[#21624] Automatic write-offs for discounts
From now on, EMSOW can automatically write off excessive charges if a referring contract includes fixed or early payment discounts:

The fixed discounts are applied right after charging an amount, and the early-pay discounts are written off if your client paid in time, according to the contract settings.
This latest update also makes it possible to manually add a write-off from a referring facility that you are billing directly:
[#21628] Discount write-offs in Invoice report
Moving forward, three more columns that reflect discount write-offs are available in the Invoice report:
Fixed discount: shows the sum of all fixed discount write-offs
Early pay discount: shows the sum of all early pay discount write-offs
Written off: shows the sum of all write-offs, including manual ones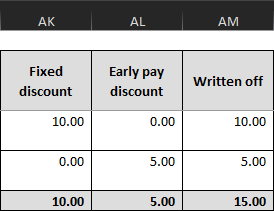 [#21625] Copy address from patient or referring facility in mobile Dispatch
Are you already using EMSOW's new mobile-friendly experience? If not, try adding /m after your domain name, e.g. yourcompany.emsow.com/m. This new user interface works on any device, including smartphones and tablets. If you need help navigating it, please contact our support.
With this update, we have added two buttons: Copy address from patient and Copy address from referring facility to the Edit exam menu: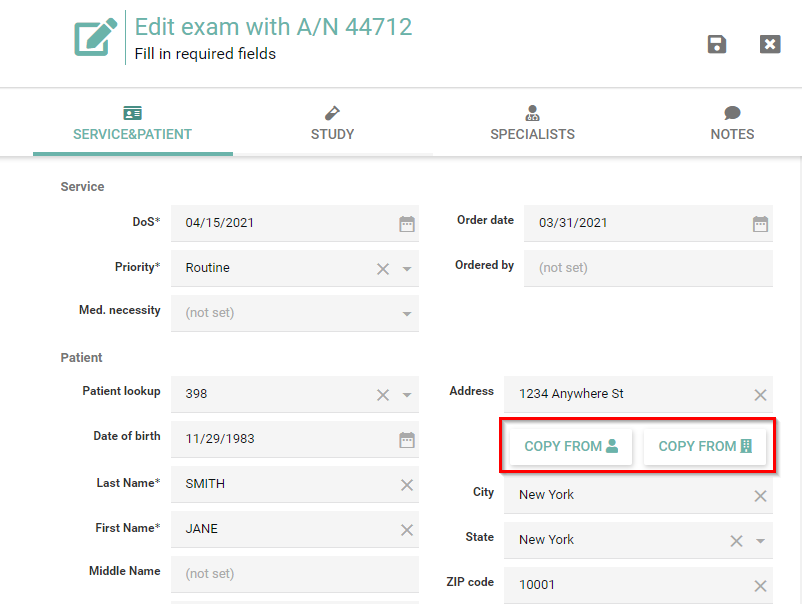 Tap the necessary button to autopopulate the service address fields.
[#21592] Laboratory travel allowance settings
A new Lab billing tab has been added to referring facility settings:

Here you can set a travel allowance type for a laboratory technician who draws a specimen either on a per-mileage basis or on a flat rate (per-trip) basis.
[#21568] Ability to add bounced check fee to invoice
With this update, you can add a Bounced check fee in the Edit invoice window:

The amount entered into this field will be added to the total invoice amount:

[#20945] Requisition form upload indication in Dispatch
We have added a new icon that indicates if a requisition form has been uploaded for a service:

By the way, did you know that EMSOW can generate requisition forms based on a document template? Ask us how to set it up.
[#20940] Pick patient's last referring facility when adding new service
From now on, when you add a new service in Dispatch or Rendering Provider Portal, EMSOW will automatically select the referring facility from the patient's last service. One more feature to save time on data entry!