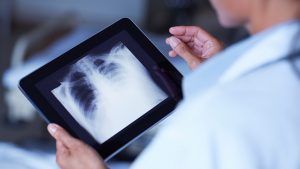 The market of digital X-ray imaging is continuously growing (according to a MarketsandMarkets report, by 2023 it is expected to reach $13.4 billion compared to $8.68 billion in 2018). To a great extent, this is happening due to the development of digital (RIS, PACS) and mobile imaging technologies. The leading vendors (Carestream, Phillips, GE, etc.) are marketing units which are more reliable, compact and user-friendly compared to the machines of previous generations.
Digital X-ray systems offer several benefits, such as:
Digital X-rays produce up to 70% less radiation than film systems
Digital technologies to a great extent eliminate one of the most significant disadvantages of medical X-rays – radiation exposure
Digital X-ray equipment can boast of higher image quality than traditional films, though it may vary in different equipment models and types
Some of these benefits can be achieved if the equipment is combined with good special-purpose software.
As a rule, stationary machines provide better quality images than portable ones, but the mobile imaging industry is constantly developing.
In addition, there are many image viewers with efficient tools that increase interpreting quality and significantly reduce the risk of overlooking a patient's health problem for a reading radiologist. The digital systems employ a PACS, which greatly accelerates and facilitates technologists' and doctors' access to images. With modern web-based solutions, information can be transferred within seconds, although, it depends on the speed of the Internet connection.
PACS systems provide way more convenient storage than traditional analog systems. You do not need to keep your images in your office on CDs or even on your computer, because nowadays it is easily affordable to have cloud-based storage. Although it is relevant for any modalities, it is especially important for X-ray, because there are certain legal issues associated with storing X-ray (regulations may vary from state to state).
The digital systems can be 100% secure. If you are using proper software for your medical business, you will have no HIPAA-related issues.
Mobile X-ray is a separate topic and requires a separate article (we'll discuss it later on our blog). It is obvious, however, that going wireless and mobile can be convenient for patients and profitable for healthcare providers.
Today, medical X-ray businesses are going wireless and trying to purchase the best equipment they can afford, but they also should bear in mind that proper software and digital tools are no less important.