This week, we have put out a couple of updates to improve your billing workflow. These two were requested by our customers. However, you can also take advantage of them.
And yes, along with the billing system, EMSOW offers cloud PACS, dispatching, and even image reading on one simple platform and at a very attractive price. Check it out: https://emsow.com/welcome
[#50528] Add a supervising provider to insurance claims
Now you can select a supervising provider from your reading doctors and add their name to insurance claims.
To add a supervising provider, select a service in the Billing module, double-click on it, and start editing billing information. Use the dropdown menu in the Supervising provider column.
Note that the supervising provider information is not printed on HCFA-1500 forms. If you use this option, the supervising provider's NPI will be added to Loop 2310D of X12 EDI electronic claims that you send from EMSOW.
[#20516] "Referring groups" search filter in the Billing module
We have added the Referring groups search filter to the Billing module. It is located in the Referring doctor section of the Options panel.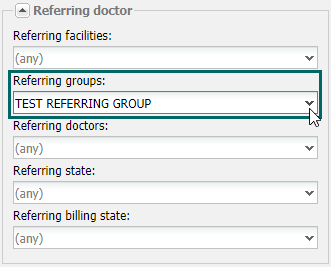 The Referring groups feature allows you to group referring facilities for easier search and sorting. To set it up, go to Setup / Referring / Referring groups.