Mobile diagnostic businesses, correctional facilities, and radiology providers take advantage of state-of-the-art PACS, a zero-install DICOM Viewer with a comprehensive set of report templates, as well as a robust system for patient scheduling, technologist dispatching, and billing. Image interpretation by a trusted radiologist licensed in your state is also a great opportunity we offer.
The latest updates will help you include discounts in your contracts, encourage your personnel to enter complete patient information and track TAT more precisely. Besides, we have made a minor improvement for correctional facilities.
If you're not with EMSOW yet, visit our website, check out the services, and schedule a demo. You will see how it works (and even try it!), have your questions answered, and compare prices.
[#20605] Improved user interface to set up contracts for Part A billing
Now you can include discounts in your contracts in one window, without opening several modules. Go to Setup > Billing > Referring Contracts. Start editing a referring contract. Discounts are added in the Discounts section of the Edit referring contract window.

Set the required discount parameters, then click Save.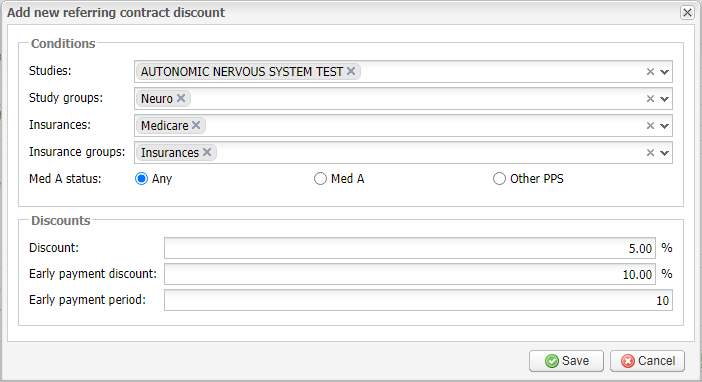 [#20589] New mandatory rule: Patient Email
Now you can make the Patient Email field mandatory. To set this rule, go to Setup > Rules > Mandatory Rules. Start editing a rule. In the Fields drop-down menu, select Patient Email. Click Save.
When this rule is enabled, the system will not allow users to save services with the Patient Email field left blank.
[#20554] Excel invoice for correctional facilities
In the latest version of EMSOW, you can send invoices to correctional facilities in the Excel format (previously, only PDF was available). To set up this option, go to Setup > Billing > Billing companies. Start editing a company record. Make sure that the company type is Direct. In the Invoice properties section of the General tab, select Excel (for correctional facilities only). Click OK.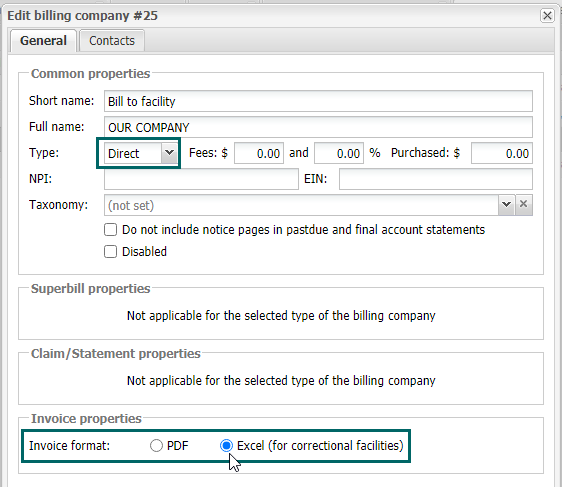 [#20541] HCFA form modifications
Now you can copy the information from Box 33 to Box 31 and 32 of HCFA forms. To enable this option, go to Setup > Billing > Billing companies. Start editing a company record. Check the box: Use this billing company info for Box 31 &32.
[#19520] Improved "Reading turnaround time analysis" module
Turnaround time is essential, especially if you deal with STAT cases. Now EMSOW displays reading turnaround time in hours and minutes. To view this information, follow the path: Analysis > Reading turnaround time analysis.