This week we've been working hard to facilitate the imaging workflow for reading radiologists, billing specialists, and nursing home providers. An updated insurance crossover option, enhanced functionality for professional component claims, and more intuitive experience, that's what you'll find in the latest version of EMSOW.
If you're not our customer yet, but would like to know how we can optimize your medical imaging processes, reduce costs, find new customers, or reading physicians, just smash the link to our calendar!
[#20295] "Use response to detect crossover" as the default choice in insurance settings
We have changed the default settings for insurance crossover detection. Now the "Use response to detect crossover" option is set by default. When EMSOW receives an ERA file from an insurance company that automatically forwards secondary claims to additional payers, it can detect if the crossover transfer has been done by analyzing the EDI 835 message. To change the crossover setting, go to Setup > Insurances, double-click an insurance, Select Yes, No or Use response to detect crossover in the Crossover section of the Billing tab, then click Save.
Yes: EMSOW assumes the primary insurance forwards a secondary claim on its own, and no secondary claims are sent from EMSOW
No: secondary claims are sent from EMSOW
Use response to detect crossover: the system behavior depends on the ERA received from the primary insurance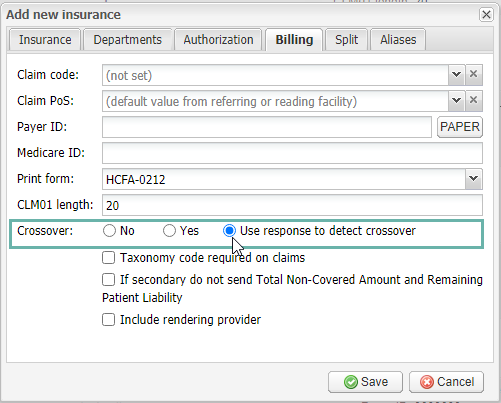 [#20232] Referring facility info in Box 32 for professional component (26) claims
If you work with billing component 26 and PoS 32 (nursing homes), we have an improvement for your workflow. Now you can select what information will be entered into Box 32 of HCFA forms: the reading doctor's or referring facility's (in previous versions, the only available option was the reading doctor's information).
To set this option, follow the path: Setup > Billing > Billing companies. Start editing an existing billing company record or create a new one. In the Claim/Statement properties section of the General tab, select Reading doctor or Referring facility.
Note that this option affects both printable HCFA 1500 forms and electronic claims.
[#20171] Mouse wheel zoom in the DICOM Viewer
Many radiologists find it convenient and intuitive to use the mouse wheel for zooming. In previous versions, you had to press and hold the Ctrl key to zoom in and out with the mouse wheel. Now, you can also click the Enable mouse wheel zoom button in the DICOM Viewer in order to use this feature. Click the button again to scroll through images.