COVID-19 outbreak led to a nation-wide business slowdown, especially in the diagnostic imaging industry. We have received hundreds of emails from our existing and prospective customers, who would like to make their companies mobile and paperless.
EMSOW has been around for 10 years, delivering full-cycle exam processing services to portable imaging companies, nursing home providers and teleradiologists, helping them decrease their turnaround time by up to 60% and finding trusted radiologists to read their exams as cheap as they never paid before (down to 70% of their normal rates).
As always, we're committed to your success, so if you would like to save your money on image reading and exam processing, please get in touch with us and let us know how we can help you to keep your imaging business moving forward. We're ready for customers who are looking to go mobile or want to optimize their workflow and cut expenditures, and if you feel that you need to handle the demands of this new reality sooner – just let us know.
Now, to our latest updates for your diagnostic business.
[#20217] A new condition for mandatory fields: "Reason for Exam or Diagnosis"
We have added a new condition to make data entry more flexible. Now you can make it mandatory to fill in at least one of the fields that store patient history, Reason or Diagnoses. Customers who do not always use ICD-10 coding may find this feature helpful because it will allow them to save the history information in a free-text form when diagnosis codes are not available.
To use this condition in your setup, follow the path: Setup > Rules > Mandatory Fields Rules. Open the Edit mandatory fields rule window and add Reason for Exam or Diagnosis to the Fields section.
[#20150] Display study documents as an image series in the DICOM viewer
Sometimes reading doctors need to refer to study documents while preparing their reports. With EMSOW, the doctors can easily retrieve any patient documents as PDF files from the Physician Portal, but this time we decided to make their work even more convenient and save their time.
Now you can convert study documents of particular types (e.g. tech sheets) to DICOM files so that your doctors could see them in the DICOM Viewer along with patient images. To enable this functionality, start editing a reading facility record in the Setup menu, open the Send options tab, and enter the needed document types in the File types field under Portal. The documents will be displayed as a separate image series.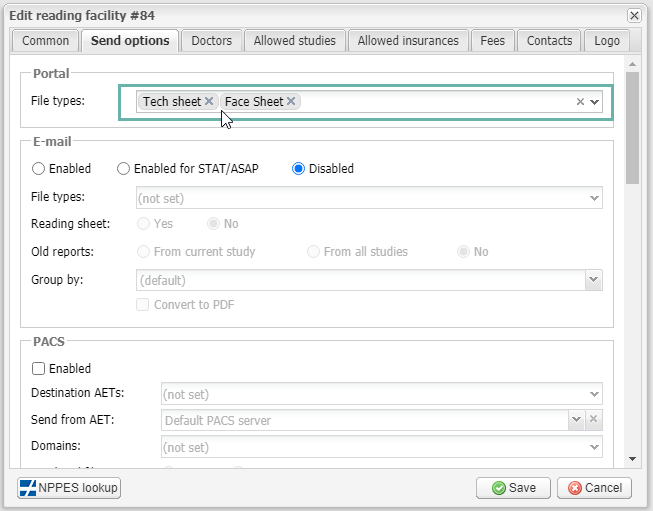 [#20194] Insurance type filter for electronic claim submission
We have upgraded the electronic claim submission functionality. Now you can select a particular insurance type for submission: primary, secondary, or other. Open the Submit electronic claims window and select the needed type in the Insurance type field.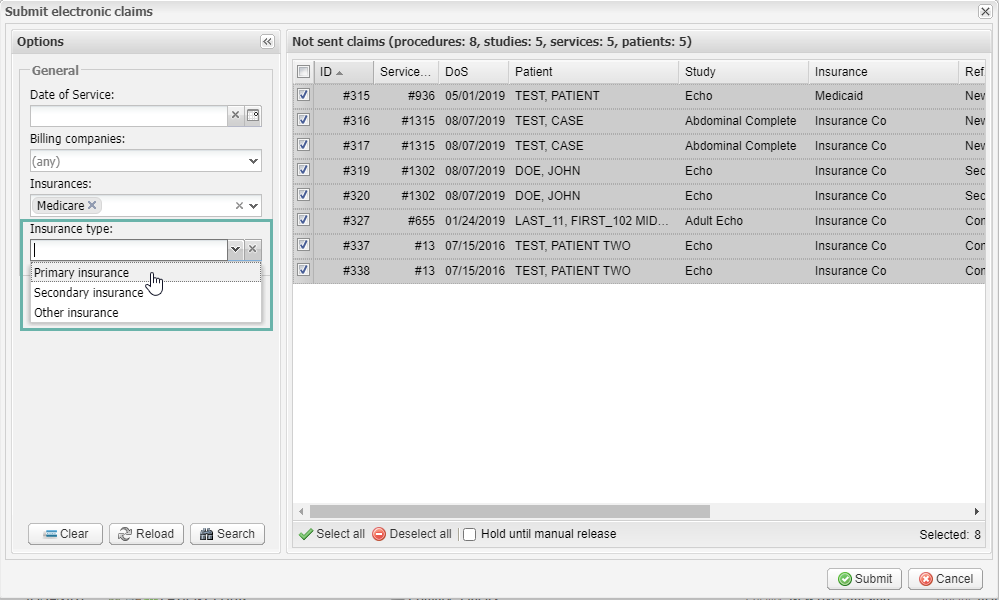 [#18924] Receive critical findings from MDW and get a reminder
We have improved EMSOW's interoperability with Medical Diagnostic Web (MDW) – a radiology marketplace, where you can find a board-certified radiologist licensed in your state who can read your images at an affordable price.
Now you can choose a department or specific users who will get reminders if critical findings have been discovered in the studies you send to MDW for interpretation.

This new option can be essential for your referring physicians, as it can help them get information about any critical findings as soon as possible, prioritize their work, and even save lives.
To set up this option, please contact our support.