Time to get back to business!
Finally, there's good news! About 40% of our customers who were forced to put their business on hold due to the pandemic are back, and the others are on their way. Just during the past week, they uploaded to EMSOW 30% more studies compared to the week before. By the way, about a quarter of those were read by radiologists from the MDW marketplace, our trusted partners. Thank you for staying with us!
We keep our fingers crossed for you, but that's obviously not enough to overcome the crisis. We are working as hard as never before to ensure your success. If you would like to learn about our services, discounts, and anti-pandemic packages, please book a demo.
But before scheduling the demo, you might be interested in what we have done this week to become more efficient and improve your diagnostic workflow. Wise choice!
[#20209] Automatic processing of HL7 orders
We have taken EMSOW's interoperability and automation to the next level! As you may already know, EMSOW is integrated with numerous EMR solutions and we keep adding new integrations. Now our system automatically processes orders that are received via HL7 and creates service records that are ready to be dispatched to a technologist. Patient demographics, CPT and ICD-10 codes, as well as physician comments are imported automatically — and all you need to do to send your technologist to a facility is click "Dispatch"! Or maybe you wish to automate that too? Let us know!
If you would like to learn more about our HL7 capabilities to receive orders, please check our updated user manual.
[#20224] Updated formatting of amended reports
We have slightly changed the formatting of amended reports so that your referring physicians could easily identify them. Now, if a report was amended, you will see the date and time of new report creation under its heading.
[#20223] Overlay text on X-ray images
We have added the date of service, patient name, and image number overlays to X-ray images in the DICOM viewer.

You can turn the overlays off by unchecking the Display OSD box in the Options menu.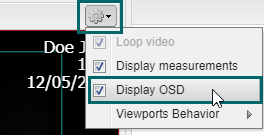 [#15556] Auto-fill billing information for studies with reports only
We have added a new feature to ensure that imaging studies will not go to billing without an attached report from a reading doctor. Click Setup > Rules > Billing Rules, create new or start editing an existing rule, and select Received report in the Triggers dropdown menu.
If this trigger is enabled, the system will display an error message in the Billing result column of the Auto fill studies window.