March 6, 2020
[#19756] "Group by" search option in the Technologist portal
We have improved the search options in the Technologist portal by adding the Group by option, similar to that in our PACS storage module. Now, you can group your images by Study UID, attached studies, and DICOM studies (default). Previously all the images were automatically arranged by Study UID.
[#19579] Transaction conditions for billing
We have improved our auto-posting feature. Now you can automatically write off a pending amount when you receive a denial with certain codes. Go to Setup > Billing > Transaction conditions. Click Add new and enter a range of CPT codes, insurances, as well as CARC/RARC codes.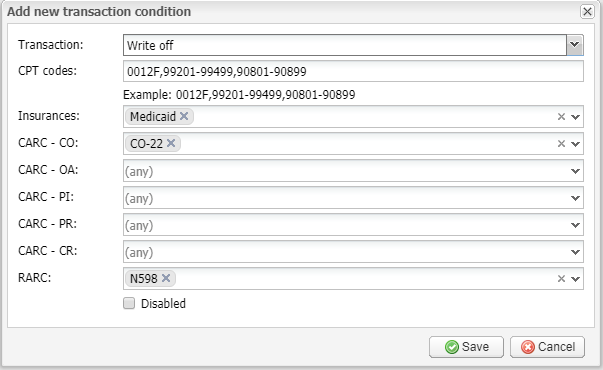 [#19726] "Cancel" button in the Dispatch module
Now you can cancel exams right in the Dispatch module. Select the needed studies, click the Cancel button, enter a cancellation reason in the window that opens (you can also skip it), then click OK. The exams will receive the canceled status and disappear from the Dispatch module. Please note that if an exam is confirmed by a technologist, it cannot be canceled. To cancel unconfirmed studies, you will need to "undispatch" them and notify the technologist.

STAY UP TO DATE WITH OUR WEEKLY NEWSLETTERS