EMSOW Release
[#18550] PACS Package Manager
We have created the PACS Package Manager module for packing DICOM files and burning CD/DVD discs, which increases EMSOW's user-friendliness and improves your efficiency. Now you can manage all your PACS archives and ISO files in one module.
We have replaced the DICOM package queue panel with a convenient notification system. Now, you can save plenty of time, since you don't have to monitor the queue and wait until your archive is ready. Instead, you will receive a pop-up notification with a download link, no matter which module you are currently viewing. To learn more about this feature, please refer to our updated manual.
[#18344] Audit log in the Processing Module
We have increased the transparency of services processing by adding an audit log feature to the Processing module. From now on you can track who and when sent the services for reading and billing. This information is available in the History section of the Processing module.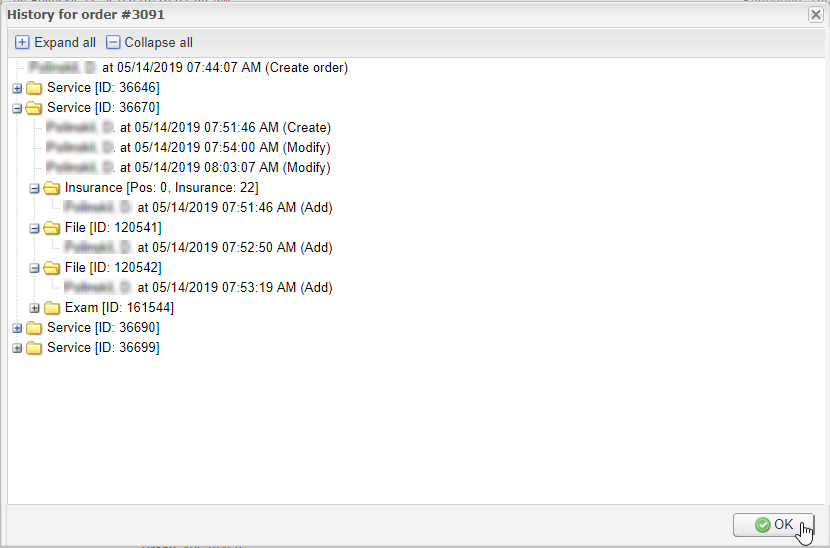 [#18587] Delivery log in the PACS Storage
We have improved the delivery log feature in the PACS Storage. By clicking the "Delivery log" button, you can see who and when sent images from your PACS Storage to an external PACS system.
[#18505] Edit notes in Billing Rules
If you are dealing with many users and multiple billing rules, there's good news. After changing a billing rule, the user is now prompted to add a note and explain why the rule had to be changed. Go to the Setup menu and select Billing Rules in the Rules dropdown menu to take a look at the improvement (you need permission to access this section). This new feature increases usage transparency and helps you avoid confusion, no matter how many rules and users you're dealing with.
[#18608 ] Improved header in the Billing module
The header pane in the Billing module contains a lot of useful information. Now you can hover the mouse over any displayed value to see its description. From now on, your employees will not get confused when they want to calculate totals at the end of the month. Moreover, you can now turn on and off the display of particular values.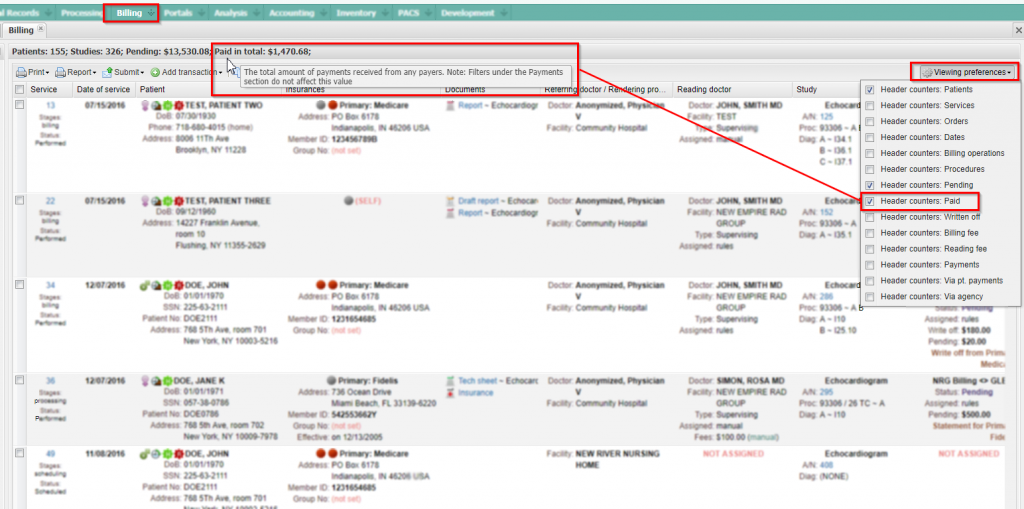 [#18265] Improved interface for entering CARC & RARC codes
Now some good news for your payment posting team. We have increased the usability of the posting interface by replacing the CARC and RARC dropdown box in the "Post transaction" window with a dialog where you can enter these codes faster. This option is essential since sometimes you have to enter over ten explanation codes for one transaction. With this option, your posting team will get more efficient.
[#17882] Increased stability of the PACS storage
We have increased the stability of EMSOW's PACS Storage module. Previously, the system might return an error when you used the "Received from" search filter. Now we have eliminated this bug.