[#20089] "Remove" button in the Dispatch module
Now you can remove services from the Dispatch module. Select the services you need to remove, click Remove on the toolbar in the Results section, and then click Yes to confirm the action. Please note that once you click the Yes button, the service will be permanently deleted from EMSOW.

[#20085] Change study descriptions for dispatched cases in the Technologist Portal
The new version of EMSOW allows you to change study descriptions right in the Technologist Portal. Open the Studies section, select a date of service in the Date field, and click the Change study description button as shown below.
In the window that opens, start typing the new study name or its CPT code, or select the needed study type from the drop-down menu, and then click OK.
[#20074] "Uncancel" button in the Dispatch module
We have added a special option to reorder a canceled study in the Dispatch module. To reorder, click the Uncancel button on the upper toolbar of the Results section.

[#20064] Technician hours billing
The new version of EMSOW allows you to invoice a facility by the hours your technicians worked. Follow the path: Setup > Billing > Referring contracts. Start editing an existing contract or add a new one. In the Generic section of the Edit or Add new window, fill out the Technician hours rate field.

When adding an invoice, enter the hours worked. Then click Save.

The Quantity, Rate and Total technician charge will be stated in the invoice.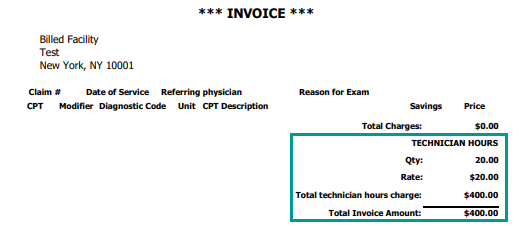 [#20045] Order the Resident Visit List by type of visit, patient name or room number
In previous versions of EMSOW, studies in the Resident Visit List (RVL) were always ordered by type of visit. Now you can order the studies by patient name or room.
Go to the Schedule module, select the Patient schedule tab, click on the Print button, and select Resident Visit List in the drop-down menu. In the Order by section of the window that opens, select Patient name, Room # or Type of Visit.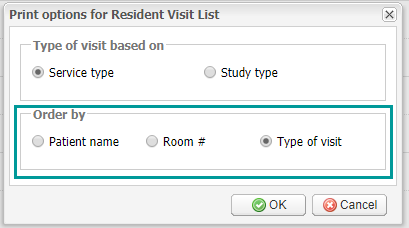 [#20033] New HL7 requests notifications
From now on, the HL7 Requests item on the menu bar will turn red if there are new study requests received through the HL7 protocol. Your dispatch will never miss a new order!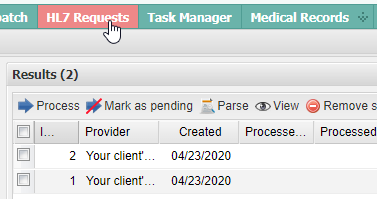 [#19902] Scroll through X-ray images with a mouse wheel
We have simplified your work with X-ray images in the EMSOW DICOM viewer. Previously, scrolling through X-ray images was done by pressing Shift and rotating a mouse wheel. Now you can do that with your mouse wheel only, no need to press and hold the Shift key!