February 16, 2022
Greetings to all!
Health insurance remains a relevant and politicized topic in the United States. Let's have a look at Health Insurance Statistics 2021:
4% of Americans were uninsured in 2018, thus leading to staggering health care costs in case of a medical emergency;
On a yearly basis, roughly 4% of uninsured Americans are forced to declare bankruptcy due to overwhelming health care costs;
40%–50% of US residents rely on employer health insurance;
New York is known for having the highest health insurance rates, whereas New Mexico has the lowest;
In the US, it's estimated that insurance fraud leads to costs of over $80 billion on a yearly basis.
EMSOW understands the difficulties you can face with, that's why every week we update certain modules of our platform for you to work with it in a convenient way. With the latest update, the Billing module offers you the new search options that allow you to search studies that do not include a specific insurance or insurance group.
Below, you can also find some updates in the Invoices module.
If you are not with EMSOW yet, you are welcome to book a FREE online demo here!
[#23107] Excluding filters for insurances in Billing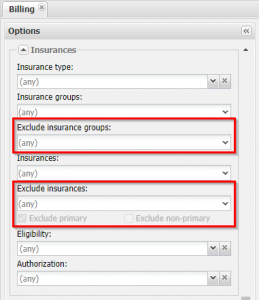 When excluding an insurance, you can additionally specify if the excluded insurance must be the primary one or not. You will find the new search options under the Insurances section in the Billing module search filter.
[#23088] Invoices modifications report
A new report has become available in the Invoices module – Invoices modification report:

Upon selecting the report in the dropdown menu, EMSOW will prompt you to specify the desired date range that all invoice modifications should fall under. After that, a spreadsheet with the report will be downloaded. The report reflects when and by whom a modification has been made as well as new invoice amounts and procedures count:
STAY UP TO DATE WITH OUR WEEKLY NEWSLETTERS