Dear practitioner!
The global mobile imaging market size was valued at $29,389.4 million in 2020, and is projected to reach $53,847.8 million by 2030 registering a CAGR of 6.50% from 2021 to 2030. Mobile imaging technology is used to provide fast, accurate diagnostic services on site, transforming a traditionally time-consuming process into a smooth, easy one with immediate results. Mobile imaging has a variety of novel uses in fields such as cardiology, neurology, and women's health. Direct X-ray, electrocardiogram (EKG), and ultrasound services are provided by mobile imaging services to medical facilities as well as residential and private sector residents.
The bigger the industry becomes, the more difficult it is cope with it. EMSOW always tries to make it easy and clear to work with. This week EMSOW made an update in the Processing module. This feature can be extremely useful if you have repetitive orders with the same patients but the orders differ in the date of service, ordering or referring facility, etc.
Below you can find other useful updated features which can make your work with EMSOW better!
If you are not with EMSOW yet, you are welcome to book a FREE online demo here!
[#23693] Study report finalized time in End of month report
From now on, the End of month report shows not only the date when the study report was finalized but also the exact time. To that end, we replaced the old Finalized date column with Finalized time. You can select this column (and a multitude of others) in a window that pops up before generating the report: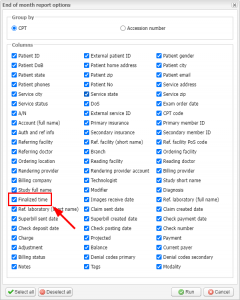 [#23618] Copy orders in Processing
With the latest update, you can copy orders in the Processing module. To copy an order, click the Copy order button on the order toolbar: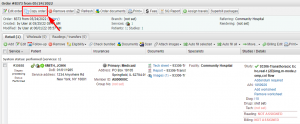 In the window that will show up, select the parameters for the new order, similar to when you create a new order from scratch:
As a result, the newly created order will have all the patients from the source order with the same services and documents.
[#23568] "Processing" as default note's type
Moving forward, when adding a note in the Billing information for service window, the default note type will be selected as "Processing" instead of "Collection" as it was before: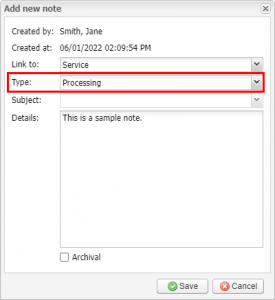 This will make the note visible in the both modules: Processing and Billing.