Dear healthcare provider!
COVID-19 created a greater demand for virtual and home-based care. House-based care has expanded more mobile imaging options for patients, such as the first mobile lung cancer screening program in the country, because it isn't yet able to deliver hospital-like surroundings or technology into the home. To provide radiological care at home, more radiologists are growing their mobile practices.
Since the industry is growing, every week EMSOW creates useful features for our clients to work comfortably and successfully.
You are welcome to check all the updates below.
If you are not with EMSOW yet, you are welcome to book a FREE online demo here!
[#23907] Edit external service ID in Add/Edit service window
Recently, we added an easy way of editing the study external accession number while you are editing the service. This week we've gone further and now you can edit the external service ID as well!
Just select Edit external numbers in the study dropdown menu:
And enter the necessary external numbers in the window that pops up:

[#23831] Study sorting by service priority in Physician Portal
Moving forward, studies in Physician Portal are arranged according to their priority: STAT studies come first, ASAP studies come second and then comes the rest (routine studies):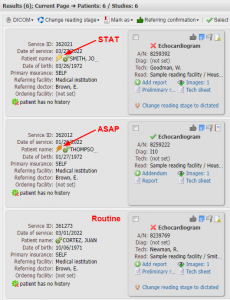 [#23774] Eligibility corrections
We have fixed a bug when the insurance eligibility indicator showed a wrong color (orange instead of green) when the date of service is not within the insurance's hospice benefit range.