August 5, 2022
Dear practitioner!
Healthcare is one of the largest and fastest-growing sectors of the American economy. Americans spend almost $8,000 annually per capita on healthcare, and a significant portion of that sum is spent on health insurance.
This week EMSOW has made an update to the Billing module, which makes it possible to see the recipient of the most recent insurance claim in the End-of-month report. Below you can also find another useful feature for the mobile version.
If you are not with EMSOW yet, you are welcome to book a FREE online demo here!
[#23871] Technologist name in Dispatch (mobile version)
Moving forward, the Dispatch module in the mobile version shows the technologist's name alongside the referring facility name:

[#23195] "Last claim sent to" column in End of month report
With the latest release, the End of month report in Billing can show where the last insurance claim was sent to. To enable this, select the respective checkbox in a window that pops up before the report is prepared: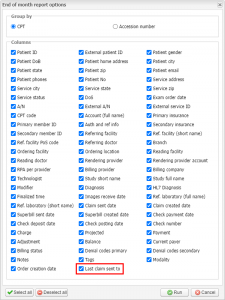 STAY UP TO DATE WITH OUR WEEKLY NEWSLETTERS