August 17, 2022
Dear healthcare provider!
To help you manage your healthcare business more successfully, EMSOW works hard to provide you with new features and useful updates. We've added a new filter to one of the modules that can make your work with us more convenient. You can check it out below as well as another helpful feature.
If you are not with EMSOW yet, you are welcome to book a FREE online demo here!
[#23993] Search processed HL7 requests without services
This week, we have added a new filter to the HL7 Requests module: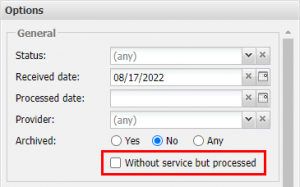 It allows you to search processed requests that are not linked to any service anymore (e.g., when a service was deleted some time later after the HL7 request had been processed).
[#23987] Allowed insurance groups for referring facility
With the latest release, it's become possible to configure what insurance groups are allowed for a specific referring facility. You can do it in the new Allowed insurance groups tab in the referring facility settings:
This tab works the similar way as the Allowed insurances tab does: only the insurances from the selected insurance groups will be available for entering in all services under this referring facility.
STAY UP TO DATE WITH OUR WEEKLY NEWSLETTERS