September 16, 2022
Dear provider!
The Global Healthcare market is anticipated to rise at a considerable rate during the forecast period, between 2023 and 2029. In 2022, the market is growing at a steady rate and with the rising adoption of strategies by key players, the market is expected to rise over the projected horizon.
As you see, the healthcare industry keeps growing all over the world. EMSOW always tries to make useful features for you and the last enhancement allows you to add addresses in our software from all over the world. Below you can find out more about this handy feature.
If you are not with EMSOW yet, you are welcome to book a FREE online demo here!
[#24110] Support for worldwide addresses
With the latest release, it is possible to enter addresses for any country in EMSOW if you select "Other world" in the Country field: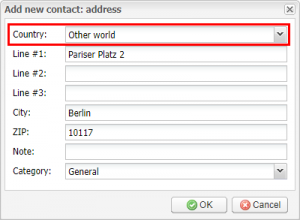 If you wish to enable this feature, please contact our support team.
STAY UP TO DATE WITH OUR WEEKLY NEWSLETTERS