November 3, 2022
Dear provider!
Cloud-based PACS systems are becoming more common across radiology practices looking to increase the effectiveness and scalability of their clinical practice. Cloud PACS solutions are substantially faster than on-premise PACS systems and frequently have lower installation, operation, and management costs.
In addition to the advantages that were mentioned above, EMSOW also always pays attention to your needs and tries to make updates every week so your work with us would be smoother and better. Check out a few enhancements in billing and financial analysis modules that can ease your work with EMSOW.
If you are not with EMSOW yet, you are welcome to book a FREE online demo here!
[#24489] Patient statement sent and created dates in End of month report
Two more columns showing when a patient statement was created and sent have become available in the End of month report in Billing: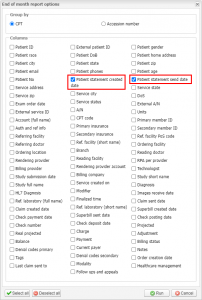 [#24469] Improved search by insurance in Submit statements
The latest release brings improvements in the Submit statements window in Billing. From now on, you can search statements by the service primary insurance that is also displayed in the statements grid. Another thing is that the Insurance type filter has been renamed to Current payer type which more accurately describes its purpose.
[#23937] Projected written off amount in Financial Analysis
In addition to the written off amount, the Financial Analysis module now also shows how much you could get for the claims that had been written off in the Written off projected column:

STAY UP TO DATE WITH OUR WEEKLY NEWSLETTERS