November 16, 2022
Greetings to all!
Many people receive constant reminders on their smartphones: birthdays, anniversaries, doctor's appointments, social engagements. At work, their computers prompt them to meet deadlines, attend meetings and have lunch with the boss. Something similar is happening to doctors. And when they're hit with too much information, the result can be a health hazard. The electronic patient records come with a host of bells and whistles that may be doing the opposite in some cases.
That is why EMSOW tries to make only useful features which can make it easier to work with us. This week we've made two releases that can help reading doctors receive notifications faster. You can learn more about these enhancements below.
If you are not with EMSOW yet, you are welcome to book a FREE online demo here!
[#24499] Addendum request notification for reading doctor
With the latest release, reading doctors can receive email notifications if the study has been marked as required addendum. In order to enable such notifications, select this checkbox in the reading doctor settings: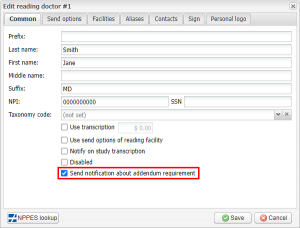 [#24484] Study transcription notification for reading doctor
Another notification for reading doctors coming with this release is sending an email to the reading doctor once the study transcription is complete (i.e., the study has been moved to the transcribed stage). You can turn it on by selecting this checkbox in the reading doctor settings:
STAY UP TO DATE WITH OUR WEEKLY NEWSLETTERS