November 30, 2022
Dear practitioner!
Complete and timely financial statements are the most powerful strategic tools for any healthcare organization. They help business owners measure progress towards goals, and they're essential for performing an accurate cash flow projection for the future and making important business decisions.
EMSOW team understands the importance of billing processes. So, there are two new features in The End of month reports in Billing module which can help you save your time and make your work with our platform faster and easier.
If you are not with EMSOW yet, you are welcome to book a FREE online demo here!
[#24638] Study external service ID in End of month report
From now on, the End of month report in Billing can show the study external service ID if you select the corresponding checkbox in the report options: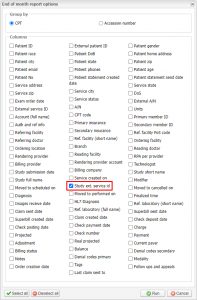 [#24635] See when service was moved to scheduled, performed, or canceled in End of month report
Another update for the End of month report in Billing allows you to see when the service was moved to the scheduled, performed, or canceled state: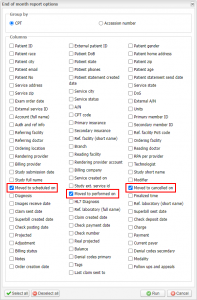 STAY UP TO DATE WITH OUR WEEKLY NEWSLETTERS