Dear practitioner!
It is widely known that the most successful medical practices don't reach their position in the industry without paying close attention to all aspects of their revenue cycle. In any case, it's crucial that your practice implements a system that speeds up the billing process while minimizing errors and adhering to the most recent privacy and other governmental regulations.
EMSOW's Invoice Module has become more comfortable for you to use as it allows healthcare providers to directly bill their clients. Now it is possible to see the dates when checks were posted and the report will display all posting dates, with each payment represented by a separate row.
Below you can find a few improvements that we've made to this module, as well as a couple of others.
If you are not with EMSOW yet, you are welcome to book a FREE online demo here!
[#22862] Medicaid provider ID in referring doctor settings
From now on, it is possible to add a Medicaid provider ID in the referring doctor settings: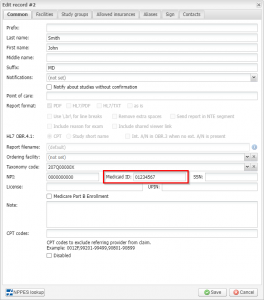 [#22860] Print Study Group in invoices
Referring facility invoices now show the study group next to the CPT code description: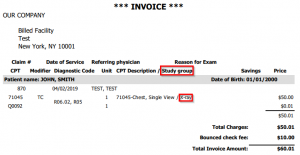 This will help your clients figure out what kind of study it is (e.g., ultrasound, X-ray) if the CPT description is not enough.
[#22780] Posting date and amount in "Report of all invoices"
Moving forward, the Report of all invoices shows dates when checks were posted in the new Posting date column. If a check was posted over the course of a few days, the report will show all posting dates with each payment in its own row. We have also added the Posted total column that shows each payment amount.
Below is what the same invoice that is paid with two checks looks like in the report (for simplicity, non-relevant columns are omitted):
[#22594] Remove invoice payments and write-offs
With the latest update, you can now remove invoice payments and write-offs. To do this, hover your mouse over the necessary payment and click the Remove payment icon that appears:

EMSOW will ask you to confirm removal: