December 29, 2021
Dear practitioner!
It goes without saying that filing claims electronically can offer a number of benefits, such as: minimizing disruptions to your cash flow, tracking claim status, increasing accuracy and cut down on claim rejections, cutting down on paperwork and decreasing overhead costs and staff time.
To make electronic claims more comfortable for you to use, you are welcome to use EMSOW's Billing module, that allows healthcare providers send claims electronically via EDI.
If you are not with EMSOW yet, you are welcome to book a FREE online demo here!
[#22955] Add electronic claims for multiple studies at once in Billing
The latest update brings you an easy way of adding electronic claims for multiple studies. Just open the Add transaction dropdown menu in the Billing module and select Electronic claim (for all) or Electronic claim (for selected):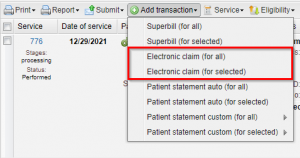 Once the studies are processed, you will see the results and details on skipped studies (if there are any):
STAY UP TO DATE WITH OUR WEEKLY NEWSLETTERS