December 29, 2022
Greetings to everyone!
In radiology, stack mode viewing of radiological images is very popular. This popularity may be because the technique exploits the visual system's sensitivity to motion. By presenting image sequences over time, stack mode makes abnormalities more apparent than do techniques that present the sequence over space.
Given the importance of this, EMSOW team made the update that will make your work with MRI images easier and faster.
If you are not with EMSOW yet, you are welcome to book a FREE online demo here!
[#24748] Scroll MRI images in viewer through all stacks within series
The latest release makes viewing MRI images more convenient by allowing you to scroll the images through all stacks (from first to last) within the series, so you don't have to manually switch between the stacks.
In order to activate this mode, open the viewer options and select Scroll over stacks: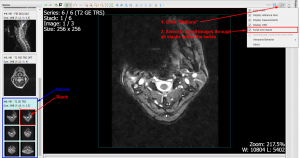 EMSOW will remember your preference and will automatically activate this scrolling mode when you open the viewer next time.
STAY UP TO DATE WITH OUR WEEKLY NEWSLETTERS