New DICOM tools for your business!
EMSOW offers medical imaging providers a state-of-the-art PACS, a zero-install DICOM Viewer with a comprehensive set of report templates, as well as a robust system for patient scheduling, technologist dispatching, and billing. Image interpretation by a trusted radiologist licensed in your state is also a great opportunity we offer.
We stay in tune with recent industry developments and our customers' needs. Here are four updates to help your reading doctors and facilitate your billing processes. If you are our customer, please see details below.
If you're not with EMSOW yet, please visit our website, learn about our services, and schedule a demo. You will see how it works (and even try it!), have your questions answered, and compare prices.
[#19707] Cobb angle measurement tool
With this update, you have one more measurement tool at your disposal in our DICOM Viewer. The new one is for measuring the Cobb angle which determines the degree of spinal curvature. Using this tool is quite simple: draw two lines parallel to the upper and lower vertebrae of the curve and you will see the curvature angle: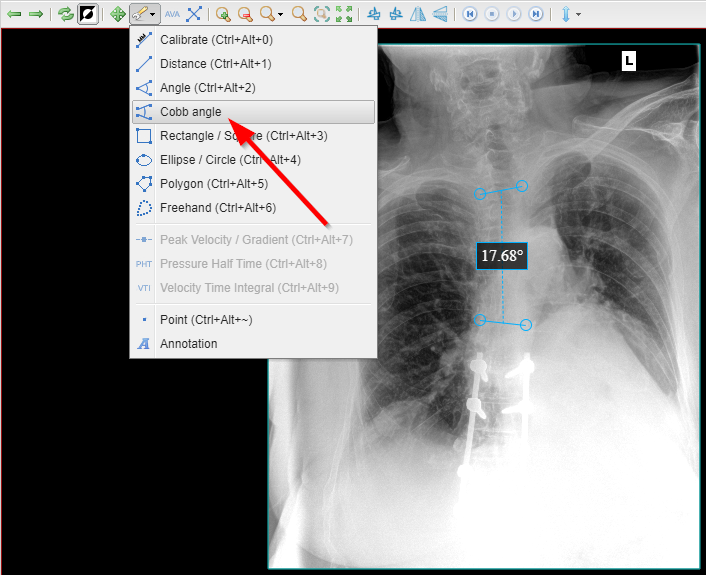 [#20786] DICOM hanging protocols
If you're tired of laying out DICOM images every time you open them in our DICOM Viewer, we have some good news for you! This update brings to EMSOW the support for DICOM hanging protocols. In simple words, you can now configure how DICOM Viewer should display images for certain studies.
How to use this feature:
First, you need to create a hanging protocol. This can be done either manually or automatically (from the viewer). To create a protocol manually, follow the path Setup → PACS → Hanging Protocols in the main EMSOW menu, then click Add new and set your preferences in the window that opens:
However, you may find it more convenient to adjust images to your liking right in the DICOM viewer and then export your settings to a hanging protocol. To do this, unfold the Hanging Protocols pane on the right and click Add: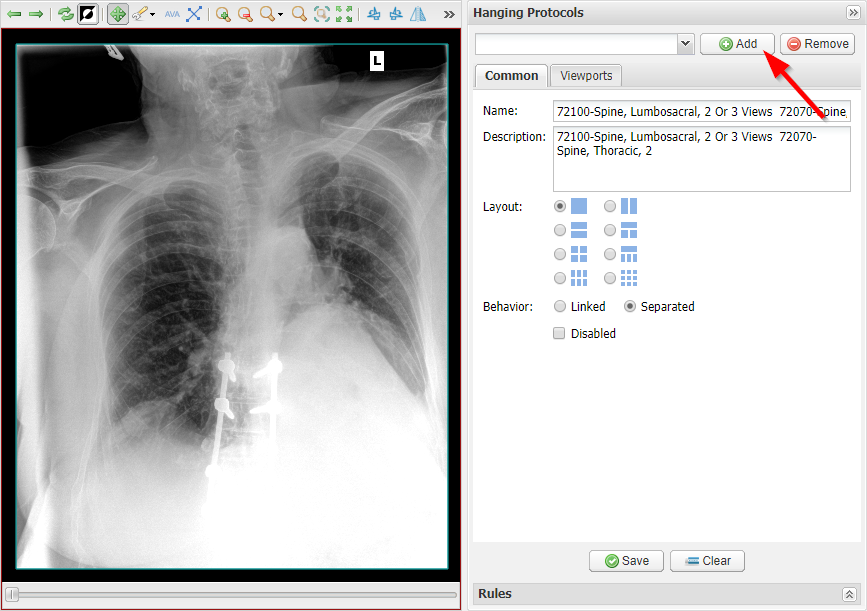 The same fields as are in the Create new hanging protocol window will be automatically filled out according to your current viewer settings.
Once the hanging protocol is created, you can select it by clicking the HP button on the viewer toolbar:

However, there's more to it! You can also set a rule that will apply the necessary hanging protocol if a certain condition (e.g. the study name) is met, so you won't even need to select a hanging protocol. To create such a rule, open Setup → Rules → Hanging Protocol Rules in the main EMSOW menu, then click Add new and set the conditions and the protocols to be applied: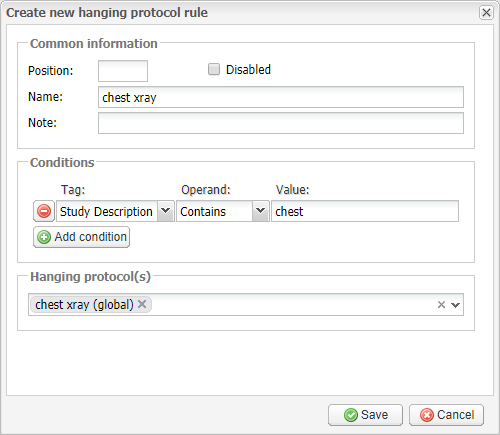 [#20938] Diagnosis codes in the "Submit statements" window
We have added a new column showing procedure diagnoses to the Submit statements window:

[#20839] Fill HCFA-1500 box 32 for assisted living facilities (PoS 13)
From now on, box 32 of the HCFA-1500 claim form is filled for referring facilities with Place of Service code 13 (assisted living facilities) the same way as for referring facilities with Place of Service code 32 (nursing facilities). You can set the preferred content of box 32 in the billing company settings (follow Setup → Billing → Billing Companies in the main EMSOW menu). Note that the "Nursing home" option group now applies to both PoS 13 and PoS 32.