Dear provider!
Radiology practices are increasingly using cloud-based PACS solutions to increase the effectiveness and scalability of their clinical practice. Cloud PACS solutions are substantially faster than on-premise PACS systems and frequently have lower installation, operation, and management costs.
EMSOW has a lot of advantages and constantly develops. There are some useful features in DICOM viewer below that will make your work with us better. You can also find an advanced search filter in the Payer Assignment module.
If you are not with EMSOW yet, you are welcome to book a FREE online demo here!
[#24901] Printing DICOM images in Dispatch
From now on, you can print DICOM images in Dispatch by clicking the Print images button on the toolbar:
After clicking this button, EMSOW will start converting the images to a PDF file and, once the conversion is complete, the PDF file will start downloading to your computer.
[#24940] Critical findings icon and search option in Physician Portal
With the latest update, study tiles in Physician Portal can show if there are critical findings reported:
In addition to that, we have added a new search option to Physician Portal allowing you to look up studies with critical findings: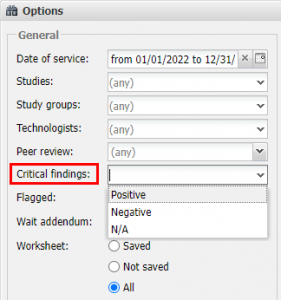 [#24938] Adding reason for addendum report
When marking a study in Physician Portal as required addendum, you can now add an addendum note in the pop-up window: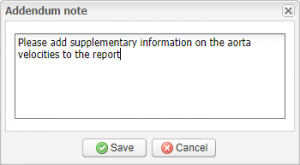 If the note is added, it will appear as a tooltip when you hover the mouse over Addendum:

If sending notifications about required addendums is enabled in the reading doctor setting, the addendum note will also be included in the email that is sent to the reading doctor.
[#24937] Studies requiring addendum are no longer shown as completed in Reports Tracking
Moving forward, studies marked as required addendum are no longer shown as completed in the Reports Tracking module (under Medical Records → Reports Tracking in the main EMSOW menu). Such studies are now treated like studies without report and they have the Pending report status.
[#24909] Insurances and study search options in Payer Assignment
With the latest release, we have significantly expanded the search filter in the Payer Assignment module (under Billing in the main EMSOW menu) by adding the new Insurances and Study field sets: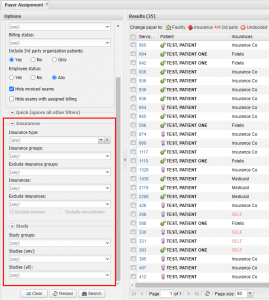 [#24783] Add new filters in submission window
This week, we have also added new search options to the Submit electronic claims window in Billing and Clearing: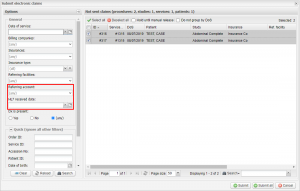 It will help you search claims by the referring account and HL7 received date.
[#24758] DICOM Viewer – window width/level buttons and keyboard shortcuts
This release makes it easier to use the window width/level tool in DICOM Viewer that allows you to change the brightness/contrast of the image.
To that end, we added the window width/level adjustment buttons to the viewer toolbar: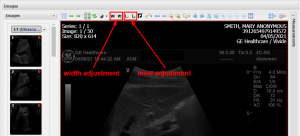 Another way to adjust window width/level is using the new keyboard shortcuts:
D – increase window width
A – decrease window width
W – increase window level
S – decrease window level
It is also possible to change the adjustment step that is used by the new buttons and keyboard shortcuts. Just click the gear button in the top right corner of the viewer and select the preferable value for W/L adjustment step: