EMSOW feature release
This week, we've put out 9 updates, and all of them were inspired by our customers! If you're one of our clients, please see the updates below… and thank you for helping us become better!
If you've not seen the system yet, just visit our website! If you're doing diagnostic imaging, you'll definitely find the right tools to enhance your practice, check it out: emsow.com
[#21700] Superbills submission from Processing
From now on, you can submit superbill packages right from the Processing module:

When you submit superbills this way, EMSOW will filter out all superbills that are not from the opened order.
[#21666] Updated 3rd party organization patients filter in Payer Assignment
The 3rd party organization patients filter in the Payer Assignment module now offers three options:

You can now choose whether to list 3rd party organization patients exclusively, include them along with other patients in the search results, or exclude them from the search results.
Just a reminder what this feature is designed for: if you deal with patients that have hospice benefits in their insurance plans, this feature allows you to bill the hospice organization for those patients directly.
[#21663] Updated handling of "Other or Additional Payor" in eligibility responses
If an eligibility response includes a reference to "Other or Additional Payor", the service will be marked with an orange ball as needed clarification:
[#21371] Patient's home phone number in dispatch notifications
Moving forward, the patient's home phone number is included in the notification email that is sent to technologists when they're dispatched to perform a study.
[#20949] Predefined service notes in Dispatch
With this update, you can set a predefined service note in the referring facility settings: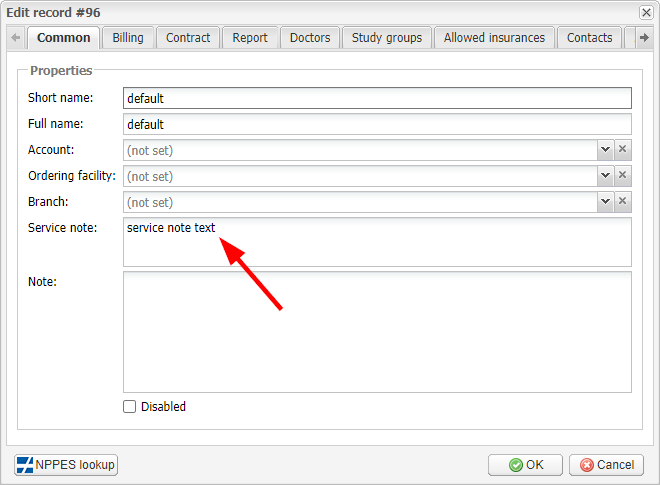 This service note will be added whenever you create a new service under that facility: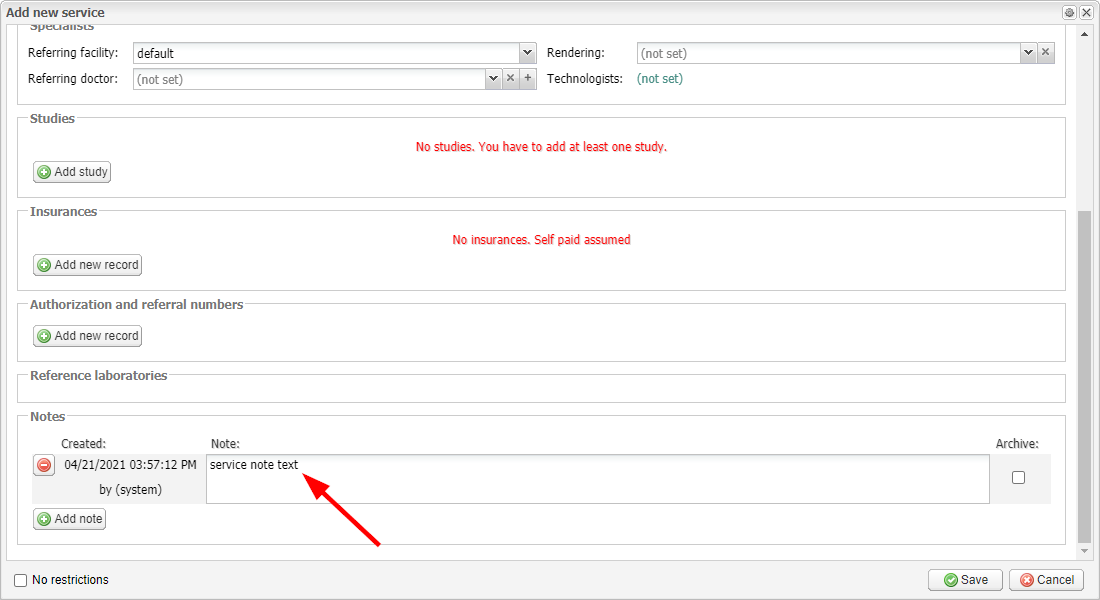 [#20948] Reading status indication in Dispatch
We have changed the behavior of the reading status icon in Dispatch. From now on, it can turn gray (if no reading is assigned), yellow (if reading is assigned but the study is not sent), or green (the study is sent to a reading provider):

[#20947] Changes in dispatch stages
We have added a new dispatch stage: overdue. This stage is assigned to all undispatched studies with a date of service in the past. The "scheduled" stage has been renamed as "dispatched."
[#20942] Select studies by study group in Dispatch
With this update, it is now possible to select a study group in the service editing window:
This will narrow the further study selection, thus making it easier for you to find the necessary study. To enable this feature, please contact our support team.
[#20941] Service address in Dispatch is autopopulated from the facility address
From now on, the service address in Dispatch is autopopulated from the facility address except when the service is rendered at the patient's home (Place of Service 12).