Dear friends!
We hope this Independence Day brings you happiness and hope!
Please note that in observance of the holiday our Sales and Support offices will be closed Friday, July 3rd, 2020.
EMSOW software and services continue to be available 24/7. If you need assistance during this time, please send an email to support@emsow.com, and support will respond when we return on Monday 07/06.
This week has been very busy for our customers, who are gradually recovering from the crisis caused by the pandemic, as well as for our support and development teams. This time we have focused on improving the dispatching functionality.
If you would like to know how to optimize your imaging processes, integrate through HL7, and considerably cut your costs on exam processing and image reading, just let us know!
[#20259] Notes from Contacts in the "send report" window
If you deal with multiple referring facilities or doctors, this improvement is just for you. We have added notes from the Contacts section of the Referring module to the Send report window. Now you will be able to view a contact note before sending your report to avoid any confusion.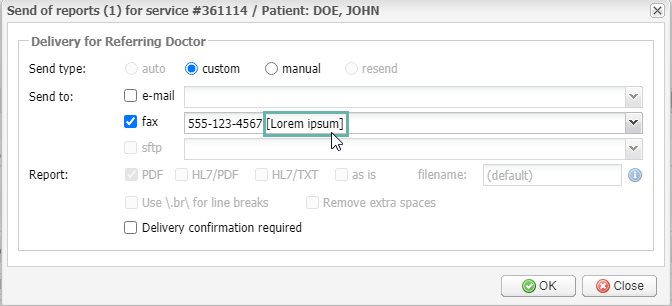 [#20247] Check mandatory fields when dispatching exam orders
Double-checking is an essential part of patient data entry, and in some cases, EMSOW can do it for you. Now the system will double-check mandatory fields rules before you dispatch an exam order to a technologist. This can be crucial if orders come to your EMSOW account through HL7, since such orders may lack important patient information. If you try to dispatch a service with blank mandatory fields, the system will return an error.
[#20222] Display service notes in the Dispatch module
If there is any additional important patient information your dispatcher needs to know, they will have it right at their fingertips. We have added the Notes column to the Dispatch module. Hover your mouse over the "note" icon, and the notes that are entered in the "Edit service" window will be displayed as a tooltip.

[#20206] "Disable selected" button in Mandatory Fields Rules
A diagnostic platform is not always a "plug-and-play" thing; it needs to be flexible and easily adjustable, since your conditions may rapidly change. Besides, sometimes you want to test these conditions. For these purposes, we have added the Disable selected button to the Mandatory Fields Rules. Select the rules you need to disable, click on this button, then click Yes in the Confirmation window.