EMSOW's Billing module is getting constantly improved. Recently, our developers have been doing their best to make EMSOW meet all the requirements of standalone medical billing systems.
The difference is that EMSOW's billing is integrated with cloud PACS, DICOM, HL7, scheduling and dispatching tools. It is a web-based platform that does not require local installation. It covers all the tasks of your imaging business, makes things simple, and saves your money.
If you're interested to learn more, book a consultation! If you're our customer, please see this week's updates below.
[#21257] Auto-tag studies if the patient is a Qualified Medicare Beneficiary (QMB)
Remember the "deductible (not) met" auto-tagging update we made last week? Here's more!
From now on, when checking eligibility of a Medicare Part B patient that is enrolled in the Qualified Medicare Beneficiary (QMB) program, EMSOW can automatically add a special tag to all studies in the service. If a follow-up eligibility check reveals the patient is no longer in the QMB program, the tag will be removed.
To enable this feature, open your billing connector settings (follow Setup → Billing → Billing Connectors in the main EMSOW menu). Make sure the Supports eligibility checkbox is selected, then select the Mark exams with "QMB" flag checkbox and type the preferred text of the tag in the text field: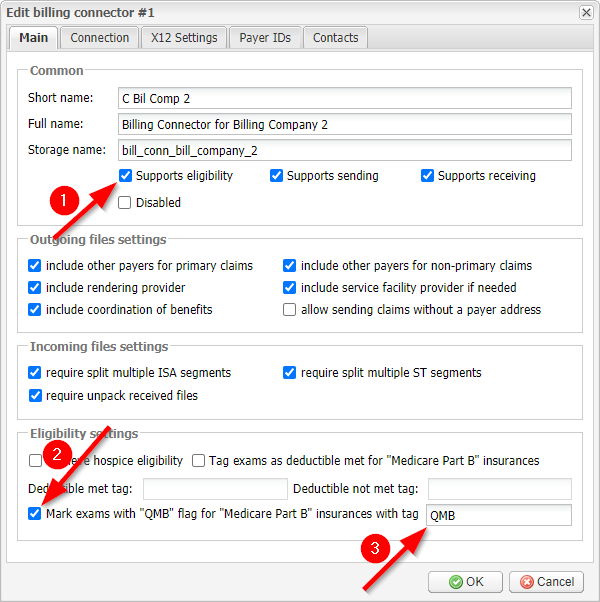 [#21256] Mark batches as printed in Paper Statements module
With this update, you can mark (and unmark) batches that have been printed out in the Paper Statements module by clicking printer icons in the Printed column. A tooltip showing who and when printed the batch is displayed when you are hovering your mouse pointer over the printer icon.
We have also added the Show unprinted only checkbox that will help you to filter out printed batches.

[#20023] Group by study in Financial Analysis
The latest update also brings one more way of grouping records in the Financial Analysis module – by study name: