Dear providers,
Below are a few recent updates to the EMSOW platform.
If you want to find out more, book a demo with us.
[#22245] Edit the exam begin time in Processing and Billing
With this update, it has become possible to edit the exam begin time not only in Schedule, but in the Processing and Billing modules as well, thanks to the new Begin time field in the Edit service window:

If you would like to use this feature, please contact our support team.
[#22395, #22453] Patient IDs in HL7 Requests
Now you can search for HL requests by external and internal patient IDs with new search options: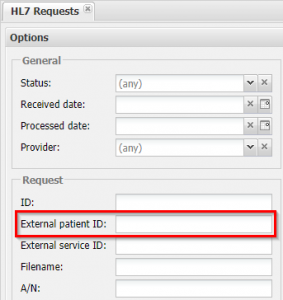 Furthermore, the patient IDs are now reflected in the HL7 Requests export files. In order to download those, click Export on the toolbar and select the desired file format:

[#22426] Mark HL7 requests as archived
It is now possible to mark HL7 requests as archived. To switch the HL7 request state between "archived" and "unarchived", use these new buttons on the toolbar:
Needless to say, this feature won't be of much use without an option to separate the archived requests from unarchived ones. To that end, we have added the corresponding option to the search filter: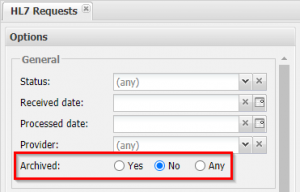 [#22419] Group Financial Analysis results by study group
A new way of data grouping has been added to Financial Analysis with this update: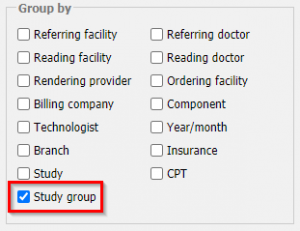 [#22400] Study report notification for primary care practitioners
Primary care practitioners can now receive copies of study reports that are sent to referring doctors, referring facilites or ordering facilities. In order to receive the reports, a primary care practitioner must be specified in the service and report notifications must be enabled in the primary care practitioner settings.
[#22383] Move services to "billing" or "processing" stages from Payer Assignment
You can now quickly move a service between processing and billing stages right from the Payer Assignment module thanks to the new Move button on the toolbar:
It is worth remembering that moving a service to the billing or processing stage affects all studies within the service including those not displayed in the Payer Assignment module.
[#22347] Quick search in the "Submit electronic claims"
This update brings improvements to electronic claim submission. Most notably, a new set of fields for a quick search of electronic claims is available now: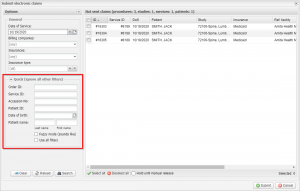 In addition, we have fixed a couple of bugs in the claim submission process.
[#22463] Change the referring facility when creating a follow-up service
Now, when you click the Follow up button, you can select a referring facility, which is different from that in the latest patient service: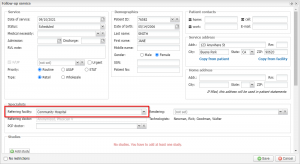 [#22456] Improved processing of incoming electronic remittance advice files
We have optimized our ERA parsing algorithms. As a result, the processing of ERA files has become much faster!
Moreover, you can now customize procedure matching methods for incoming ERA files thus making their processing even faster. To do this, go to Setup → Billing → Billing Connectors and double-click into a billing connector. Select the Incoming files settings tab. Here, under the Study match order field set, you can select and arrange up to 15 detection methods. In this case, your study match order will look like this: