May 5, 2022
Dear practitioner!
This week EMSOW made an update in Insurances module and we decided to share some life insurance facts and statistics with you:
In 2020, 54% of Americans were covered by life insurance.
50% of people overestimate the cost of term life insurance. Millennials, in particular, overestimate the cost by 213%.
A man's average premium is about 12% more per month than a woman's.
The number of consumers who prefer internet sales for life insurance increased from 17 percent in 2011 to 29 percent in 2020.
Below you can also find another useful update that can make your work with EMSOW more comfortable!
If you are not with EMSOW yet, you are welcome to book a FREE online demo here!
[#23513] Employee condition in referring contract terms
With the new update, you can specify an employee status as a referring contract term:
For managing referring contracts, follow Setup → Billing → Referring Contracts in the main EMSOW menu.
[#23432] Ignored insurances in crossover posting
The latest release makes it possible to select secondary insurances that will be excluded from crossover posting for a specific primary insurance (typically Medicare). In order to do that, open your primary insurance settings (Setup → Insurances in the main EMSOW menu) and select the Ignore crossover requirement tab: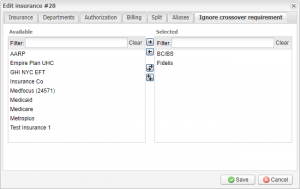 Here you can select any insurance from among those on your domain.
STAY UP TO DATE WITH OUR WEEKLY NEWSLETTERS