This module's purpose is to store information about collections made from clients during the month. You can access this module via Billing: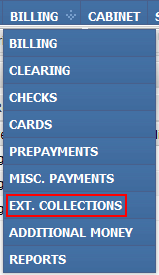 Here is the module layout:

In section 1 you can see the searching tools:
Date – specify the date or period of time.

Amount – specify the amount of collections.

Ordering facilities – choose one or more Ordering facilities.
After you click "Search", section 2 will be filled with specified collections.
In section 3 you can see the tools for operating collection entries:
Add new – creates new entry. Here is the dialog window for adding new entry: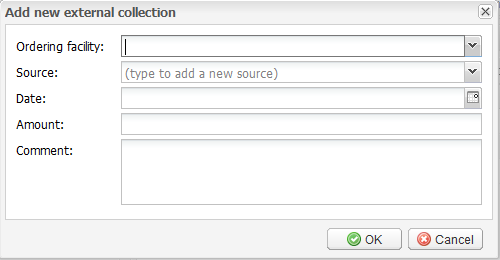 Here you can choose Ordering facility, Enter and later Choose existent Sources of collection, Date and Amount of payment, and write down the comment if needed.
Edit selected – opens entry editing dialog window. Edit dialog window looks exactly same as the previous one;

Remove selected – deletes selected entry;
Copy to clipboard – copies entry data to the clipboard;

Export – saves the entry data to .xls file.
Section 4 contains tools for navigating the list of entries.