EMSOW is a module-based application. Such modules as Schedule, Physician Portal, and Processing allow you to perform activities specific to particular business tasks. The modules available to you may depend on your role in the system (e.g. reading doctors usually have access to Physician Portal only).
The modules are accessed via the upper navigation bar that contains the ADMIN, SETUP, MANAGEMENT, SCHEDULE, MEDICAL RECORDS, PROCESSING, BILLING, REPORTS, PHYSICIAN PORTAL, TECHNOLOGIST PORTAL, SEARCH, ANALYSIS, ACCOUNTING, INVENTORY, PACS and DEVELOPMENT items.

The items with a down-facing arrow open a submenu that groups related modules together: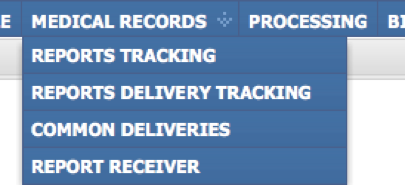 Open modules appear as tabs on the tab bar. You can have multiple modules open at the same time, which allows you to perform all the activities you need from a single web browser window. To close a tab, click the cross button near its title, or click the Close All Tabs button on the right of the tab bar.
Most EMSOW modules comply to the following pattern:
The module's workspace is an area that displays data related to your task, often in the form of a table. The workspace usually includes the bottom toolbar that lets you flip through the table's pages and set the number of records to be displayed on one page. The bottom toolbar also may have such features as search and sorting. The workspace's top toolbar contains module-specific features. Common toolbar features typical for table-based EMSOW modules are described in the next sections. For description of toolbars specific to particular modules, such as Physician Portal and Processing, please refer to the corresponding sections of the manual.
The left sidebar serves as the place for setting search options in most modules. For example, it can help you find studies performed on a specific date in the Physician Portal module.
The right sidebar, if it is present, contains module-specific features.