EMSOW Patient Portal provides your patients with secure access to their records, including attached files and diagnostic images. Also, you can download images and documents, and exchange messages with users who have access to a particular study in real time. Moreover, this portal allows you to securely share studies with users who do not have EMSOW accounts, giving you an option to request a second opinion from external specialists.
To enter the patient portal, log in to your EMSOW account (for that, a patient's or administrator's permission is required). If you log in as a patient, you get access to your records only.
Accessing study records
Click Portals in the menu bar and select Patient Portal in the dropdown menu.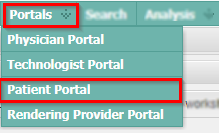 The Patient Portal will open.
Use the search filter in the Options section to the right to retrieve the needed studies. Enter the search parameters, then press Enter or click Search at the bottom of the Options section. The studies will be displayed as tiles in the Results section to the left.
Below is a study example: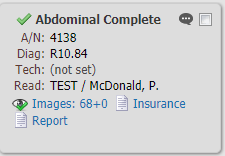 Here, you can see exam details (accession number, diagnosis codes, the technologist, the reading facility/ doctor), as well as attached diagnostic images and files.
Click on the Images icon

 to view the diagnostic images in EMSOW viewer.
Click on links with the Documents icon

 to view or download attached files, such as reports.
Click on the Chat icon
 to exchange messages with users who have access to the study. A chat window will open, where you can type messages and view the users' replies in real time.
Sharing a study
The Patient Portal allows you to share studies with users who do not have EMSOW accounts, by emailing them a secure link (e.g., you can use this feature to get a second opinion from an external physician). To share a link, select the needed study by checking the box in the upper right corner of the study tile, then click Share study

 in the toolbar at the top of the Results section.
The Share study window will open.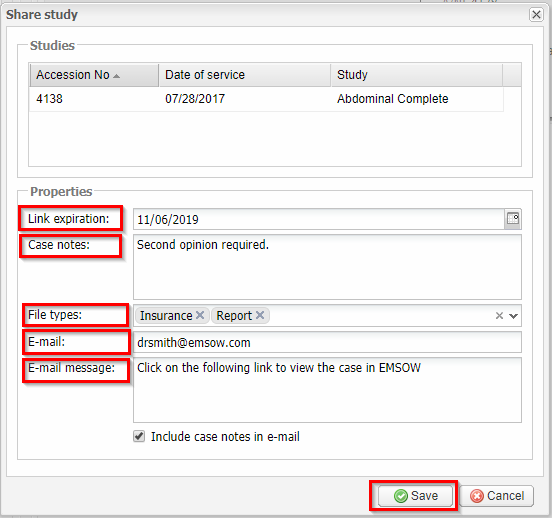 Set the Link expiration date, enter Case notes, select File types to be shared, enter the recipient's email address in the E-mail field, and type a message in the E-mail message field. If you don't need to include the case notes in your message, uncheck the Include case notes in e-mail box. Then click Save, and EMSOW will send a message to the email address you specified, which will allow the recipient to view the shared study without logging in.
Downloading images
If you need to download images of a study, select the study and click on the Pack icon
 in the toolbar at the top of the Results section. This will allow you to save the images a ZIP file on your computer or burn a CD. See details in the "How to record images to a CD/DVD or a USB flash drive" article.