After the installation of EMSOW PACS Bridge, two new icons will appear on your Desktop:
The EMSOW PACS Bridge icon launches the application. If you have set up an Ethernet interface as described in the previous section, connect your diagnostic equipment and double-click the icon. Enter your username and password in the pop-up window and click Run Bridge: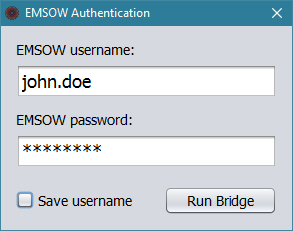 The EMSOW PACS Bridge window will open.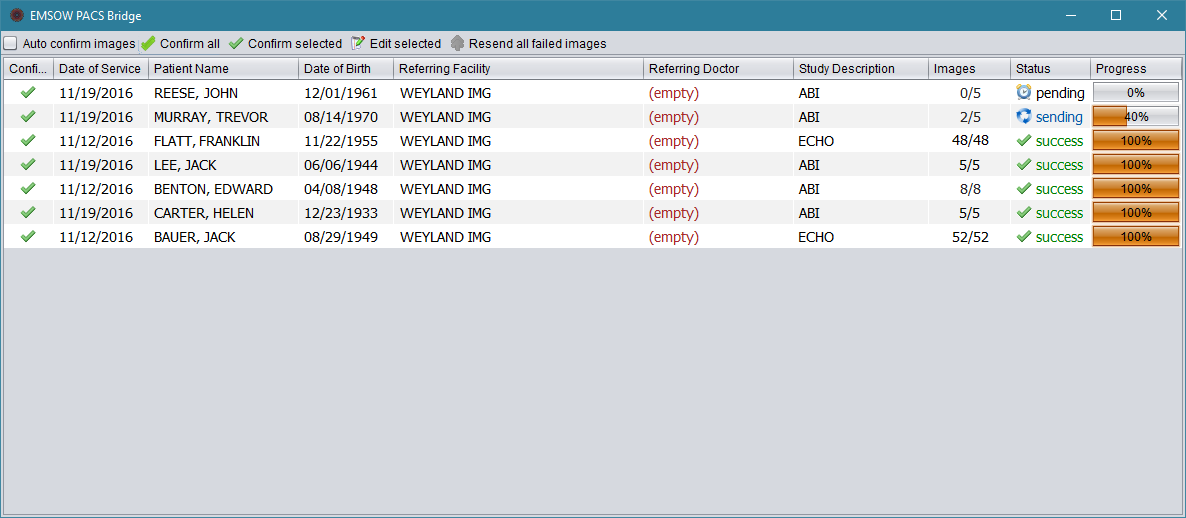 To upload images via Ethernet, initiate a DICOM transfer on your equipment.

To upload images from a USB flash drive or another file storage, use the 

EMSOW PACS Bridge Upload 

icon on your desktop. Double-click the icon to open Bridge's 

upload

 folder, copy the images to the folder, and run Bridge to start transferring them to EMSOW.

In the Bridge window, you can see the list of studies arranged in the following columns: Confirmed, Date of Service, Patient Name, Date of Birth, Referring Facility, Referring Doctor, Study Description, Images, Status, and Progress.
Above the list of studies, you can see the toolbar:
Auto confirm images – click this checkbox to immediately upload studies to EMSOW without your confirmation. This option is suitable for EMSOW sites that accept patient demographics information as entered by the technologist on the equipment.
Confirm all – click this button to confirm uploading of all studies.
Confirm selected – click this button to confirm uploading of selected studies.
Edit selected – this button allows you to edit the study before uploading it. After you click this button, the study editing window appears: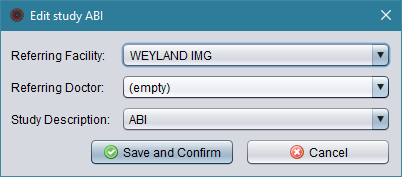 Here you can change the referring facility, referring doctor and study description. This allows you to keep the studies you upload in synchrony with the lists of doctors and study types on your EMSOW site. Click Save and Confirm to save the changes or Cancel to close the window without saving.
Note: The option to edit studies is available only if the PACS server of your EMSOW site is configured to patch the referring facility, referring doctor and/or study description tags in incoming DICOM files. Please refer to the PACS Setup section to learn more.
Resend all failed images – click this button to try uploading the images again if an error occurred during the uploading.
After all the studies have been successfully uploaded, you can close the application.